How Giesen Group innovates for sustainable growth with decanter technology
In recent years, New Zealand's winemakers have been making their mark on the international scene with distinctive wines including its famous Sauvignon Blanc wines. The industry continues to expand both at home and in export markets but needs to plan ahead for climate change and changing consumer preferences.
DATE
2023-11-28
PHOTO
Courtesy of Giesen Group
We speak with Duncan Shouler, Chief Winemaker, Giesen Group Limited, one of the country's largest wineries in the Marlborough region, about the importance of innovation and how Giesen Group's latest investment in decanter technology fits.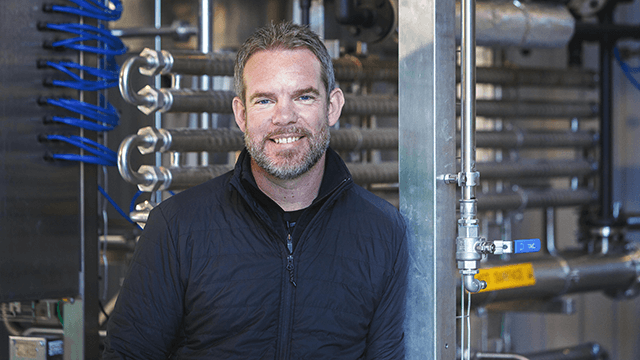 Why are New Zealand winemakers interested in decanter technology?
Duncan: New Zealand has a young wine industry. Innovation is key to the NZ wine industry as we grow and add value to our products. We're heavily influenced by new technology, Kiwis try to do things in a different way. Sauvignon Blanc is an early release wine with a fast turnaround that retains freshness and fruit flavour.
We also need to look at environmental factors and climate change and mitigate the impact with strategies for sustainability and water usage. You can never stop innovating or you lose your appeal to consumers locally and worldwide.
What does it mean for Giesen Group's 2022 harvest?
The process of juice extraction is the single most important step in wine production. Previously, this involved presses and continuous flotation to achieve clarified juice. With the decanter, the grape juice goes directly from the buffer tank to the decanter, which cuts out these steps.
The technology is being used by winemakers in South Africa who work with similar grapes to produce fruit forward styles, so we set up a trial to compare the effectiveness of decanters in terms of extraction level, throughput and wine quality.
Compared with the press / flotation process, the extraction levels were comparable, but we saw improvements in net extraction as the juice has a lower solid content. A higher juice yield has a direct impact on profitability as well as winery efficiency and footprint.
The throughput was about the same with the decanter but with a smaller footprint which allows us to gain space from removing the flotation and lees filtration machines.
Finally, the decanter performed at least comparably in terms of quality. What I personally like best about the decanter technology, with my winemaker hat on, is the freshness of the juice and a reduction in oxidation. These are key components to make a fresh, aromatic style of wine.
Why did you choose Alfa Laval as the equipment supplier?
We chose Alfa Laval due to their service, proven track record and people with relevant process understanding, delivering the same performance as other decanter manufacturers with a smaller, better priced unit. They are very thorough and demonstrated a high level of analysis, understanding of outcomes in the context of the Marlborough region and the whole process for Sauvignon Blanc grape processing, and ability to work as a partner. Talking to the machine operators, they preferred to use the Alfa Laval decanter.
Another factor in selecting the new equipment was a reduction of moving parts, and easier to clean decanters. The stainless-steel material of the Alfa Laval Foodec decanter means a strong and durable machine with fewer repairs and maintenance needs over time.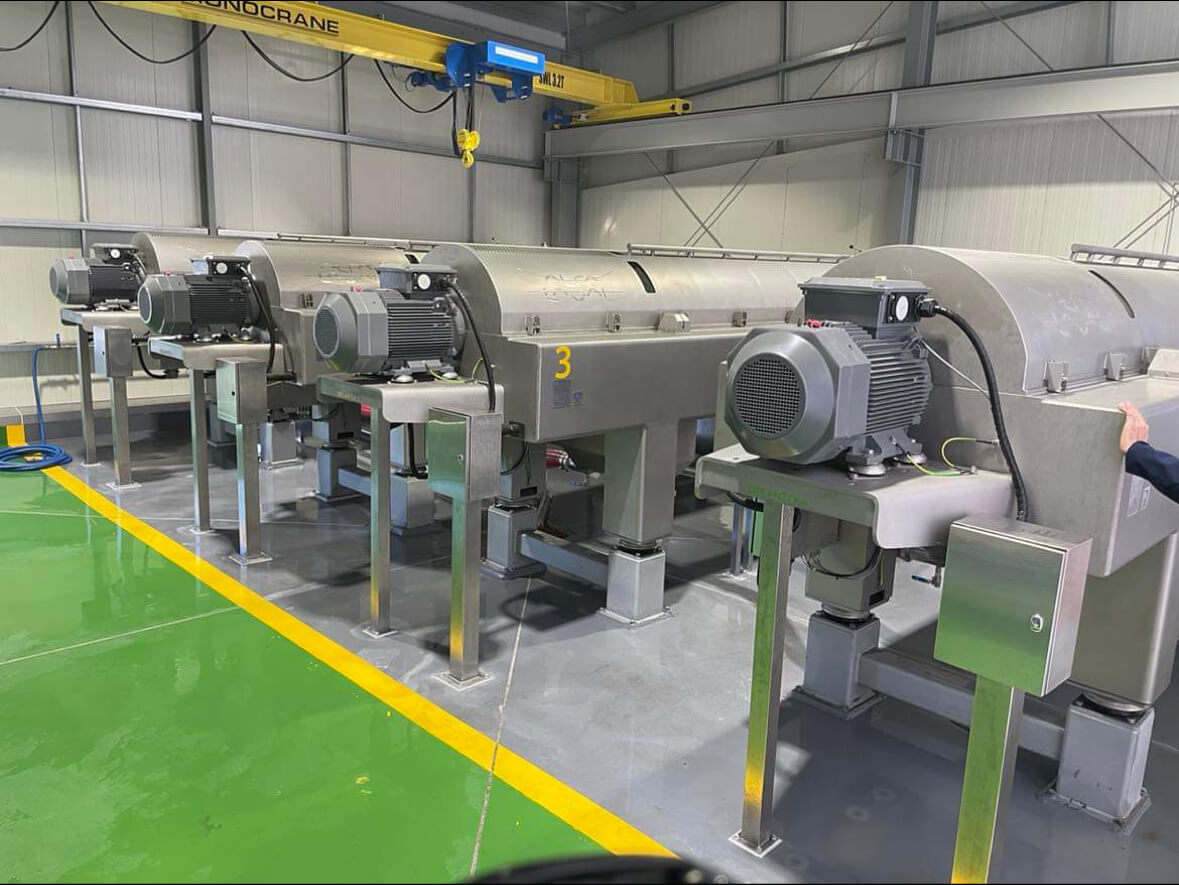 Giesen Group commissioned the Alfa Laval Foodec decanters during the 2022 harvest with excellent results for juice yield and clarity.
What are the sustainability benefits and why is that important?
For Giesen Group, sustainability and environmental considerations are vital as we grow and expand the business. We need to grow in terms of production while maintaining quality, but also considering climate change and changes to the environment in the Marlborough region, for example with an increase in extreme weather events.
The decanter helps to maximise yield from scant resources, especially a reduction in water use. A decanter requires substantially less water to clean than a press (at a ratio of 1:3) or an RDV (Rotary Drum Vacuum) filtration (lees filter) device.
What would be your recommendation for other local winemakers considering the new technology?
My recommendation to other winemakers would be to consider your wine style. The decanter process works very well with Sauvignon Blanc grapes and a fresh style. Consider your winery's infrastructure and footprint and what you can gain by reducing steps. Set yourself end goals, such as extraction, throughput and quality and test the technology to see what it can deliver for your business.
At a glance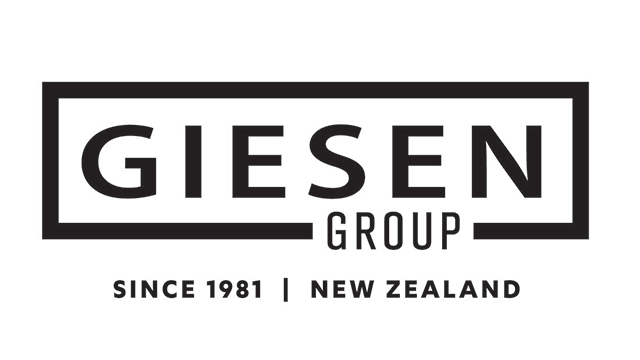 Founded by brothers Theo, Alex, and Marcel in 1981, Giesen Wines has been an industry leader in the New Zealand wine industry for four decades
The family-owned company is one of New Zealand's top 10 producers by volume with distribution in over 40 countries
Giesen own 4 vineyards covering over 100 hectares, most throughout Marlborough's highly sought after Wairau Valley and have strong long-standing relationships with over 60 of Marlborough's most respected grape growers, with around 75 growers nationwide.
Uncompromising drive for quality and strong culture of innovation
Effective juice extraction for NZ grape varieties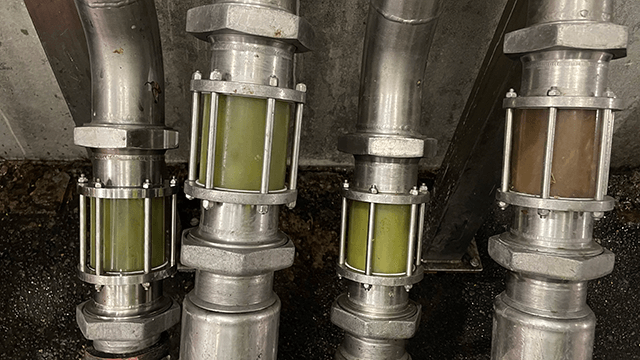 The Alfa Laval Foodec decanter is suitable for popular New Zealand grape varieties including Sauvignon Blanc and Pinot Gris (from left to right).
Curious to learn more?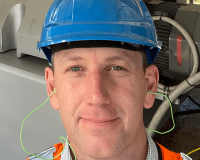 Contact Alfa Laval New Zealand's Roger Johnson to find out about the possibility of a site inspection.
Fill in our online form to register your interest.
You might also be interested in